Flights From Anchorage to Gulkana McCarthy May Creek & Glennallen Alaska
Copper Valley Air is the only provider of direct, scheduled flights, year-round, between Anchorage and McCarthy. Our flights operate every Monday and Thursday on our mail plane service. Service is offered from Anchorage to Gulkana to McCarthy with an additional stop at May Creek.
Reeve Air Alaska: 907.646.0538 or reservations@reevealaska.com
Anchorage to/from Glennallen - $220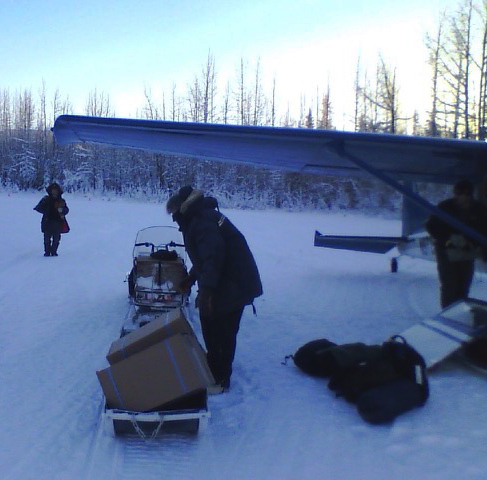 | From | To | Rate |
| --- | --- | --- |
| Glennallen | McCarthy | $125 |
| Glennallen | May Creek | $150 |
| May Creek | McCarthy | $50 |
| Depart | Time | Arrive | Time |
| --- | --- | --- | --- |
| Anchorage | 8:30 am | Gulkana | 9:45 am |
| Gulkana | 10:00 am | McCarthy | 11:00 am |
| McCarthy | 11:15 am | May Creek | 11:30 am |
| May Creek | 11:35 | Gulkana | 12:30 pm |
| Gulkana | 12:45 | Anchorage | 2:00 pm |
Mail Plane FAQ
❯

What is the procedure at the Mail Shack in McCarthy during the Covid-19 shutdown?

1. Our pilot and handling crew will be wearing masks and the appropriate gloves during all handling, at the post office, and loading of the plane on each mail day

2. Our planes will be disinfected between each mail day

3. Upon arrival at the McCarthy Airport, a sled will be provided by the community for the pilot to unload the mail

4. After the pilot has unloaded and distances, a McCarthy resident will move the mail to the shack

5. The outgoing mail will be taken out to the plane where the pilot can load it after the resident has distanced

❯

How do scheduled flight from Anchorage, Glennallen and May Creek operate during the Covid-19 shutdown?

Copper Valley Air Service will follow all Federal and State Mandates on inter-state travel. Please call for information, as the situation changes so quickly.

❯

What if I have a certified letter?

Any certified or registered mail that requires a signature needs you, or a designated representative to meet the plane and sign for it. CVAS is not allowed to sign for you.

❯

 What happens when there is a Holiday?

There is no mail plane when there is a national holiday. The makeup mail plane is the following day.

❯

What if I have separate freight?

Packages from IGA, NAPA, True Value and Bush bottle can be delivered to CVAS and we will fly it to McCarthy. The cost is $15 per box, with $1 per pound for every pound over 15 pounds.

❯

What if the weather is bad?

We will never fly the mail if it is unsafe. Updates are sent via the mass text. We will try throughout the day and even the next day until the weather is better.

❯

When does mail arrive in McCarthy?

Mail arrival is 11:00 am in McCarthy but if multiple rounds are required they will continue through the day. Outgoing mail is always collected on the first round. It will also be collected on the last round but cannot be guaranteed to be time stamped that day.

❯

Who's in charge of what?

UPS is handled by Glenn Transport, handed to CVAS, and paid for by Lynden transport.

USPS is handled by the Post Office, handed over to CVAS and paid for by you

FedEx is handed over to Glenn Transport and needs permission to be handed to CVAS. Payment for FedEx is paid directly between you to and CVAS

❯

What's the deal with FedEx?

FedEx no longer delivers to McCarthy. If you are expecting a FedEx package it will be turned back to Anchorage after 5 days unless you give permission for CVAS to accept and fly it to McCarthy. The cost from Glennallen to McCarthy is $15 per package, with a $1 per pound charge for every pound over 15 pounds. If the package is under 216 linear inches (approximately 6x6x6) the cost is $7.50. We will contact you for payment and then that package will be delivered. If you know you have a package being delivered by FedEx, feel free to give us a call and let us know. As always, call if you need any help!

❯

What if the mail plane is cancelled and I have perishables being delivered?

Call CVAS right away for us to babysit them! We have the ability to refrigerate or freeze items on a temporary basis.

❯

What should I do if my package arrived in Glennallen but didn't arrive in McCarthy?

First, thoroughly check the McCarthy mail shack to make sure it hasn't been sorted incorrectly. Second, call the Glennallen Post Office to check the tracking number. Items often are called "arrived" at Glennallen when they are not. Always feel free to call CVAS for help.

❯

How do I get on the mass text system for updates on the mail plane?

The easiest way is to call CVAS and we will add you manually. It is possible for you to add yourself however, with the following method:

PLEASE TEXT

To: 81010

The message: @copperv

Don't worry about answering questions regarding birthdate and role, etc.